MISHO is a company capable of responding to your "passion to market your original brands of cosmetics."
We have not only been a contract manufacturer (OEM) of cosmetics and quasi drugs but involved ourselves in the whole processes from planning and development (ODM) to mass production.
We have provided cosmetics and quasi drugs for about 40 years since the company's foundation. It allows us to have considerable experience and a great stock of development knowhow; besides we respond to our customers' needs with top-of-the-line evaluation and manufacturing equipment timely installed.
We are confident and capable of responding to your requests and needs and provide you with skin friendly and safe cosmetics. Please leave it to us without anxiety.
What MISHO aim at
Our company name, "MISHO," originates from the principle underlying the foundation of the company, which is to "get right fruit." "Right fruit" means to MISHO that we provide customers with products that please them to help them prosper and grow. We firmly believe that this is the only way in which we can grow ourselves. With this belief, we run the company, following the basic policy below. This policy is the core of our business activities and all the business operations must be carried out based on this policy. .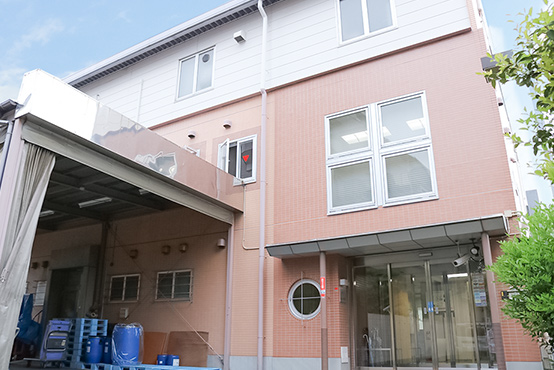 Company profile
Company name
Misho Co., Ltd.
Location
6-9-6 Umeda Adachi-ku, Tokyo 123-0851
TEL/FAX
TEL:

81-3-3887-2900

(main)
FAX: 81-3-3887-0029
Representative
Emiko Sekiguchi
Established
Mar. 1980
Business area

Planning, development, approval application and manufacture of private brand cosmetics business
Application of imported cosmetics business
Planning, development, approval application and manufacture of private brand quasi drugs business

Employee
50
Company History
| | |
| --- | --- |
| March 1980. | Was established in Asakusabashi,Taito-ku,Tokyo |
| February 1986. | Licensed as a cosmetics manufacturer. |
| July 1990. | Relocated to Umeda,Adachi-ku,Tokyo. |
| January 1992. | Licensed as a quasi-drag manufacturer. |
| April 2004. | Obtained a license to manufacture and sell cosmetics and quasi-drugs under the Pharmaceutical Affairs Law. |
| December 2005. | Changed from purified water to ultrapure water to we mixed in cosmetics. |
| November 2012. | Started using electricity generated by solar power to manufacture products solar power generation system. |
| October 2015. | Stated using three-chamber electrolytic water generator. |
| January 2016. | Started using supercritical extraction system. |
| January 2017. | Obtained ISO quality management system (ISO 9001:2015) certification. |
| October 2021. | Change electricity to 100% renewable enegy. |
Access
6-9-6 Umeda Adachi-ku, Tokyo 123-0851
Isezaki Line (Tobu Sky Tree Line) Approximately 10 minutes on foot from "Umejima" station